on the left is the older picture before the mod in early 2013.
this is the most versatile sounding bass guitar i've ever played.  ergonomic body shape, brillant finish, top craftmanship, and it's hand made in canada.  i'm a proud owner of this instrument.
my first time seeing fbass was backed to 2008, when cosmo music moved to their new monster building and they got quiet a few high end brands like fbass, suhr, aguilar, and mark bass.  my first fbass i've ever played was a black bn6 with white grain, and it was just wicked.  it was the bass that made me realize how good a piece of wood can sound, even when it's not plugged.  it can really vibrate into your heart.  the first note i hitted when plugged was like a dream, it sounded clear, crisp that sounds like hitting a piano string that fills up the bass display room nicely.  i was honored enough to visit their shop in hamilton in 2011, and luckly enough to find one used at local classified.
tonal wise, it's a monster.  george furlanetto(fbass owner, luthier) has got alot of good fender vibes into his instruments, his stack pickups in the jazz bass position that can be switched from single coil to humbucker, active/passive tone and the super musical preamp that's not possible to dial in any bad sound.  this bass covers from all the vintage fender sound from hi-fi modern voices that sits well in any situations while sounding even and open when playing alone or with a band.  george also has great taste with his finish, not to mention his wood pickup cover.  the bass shines under the stage light.  i do believe cool looking instrument can make you a better musician.  
this bass is one of my best investment, period.  In early 2013, I had Mr. George Furlentto to do the permanent installation of the roland divided pickup.  hence 1 extra knob(gk-volume) and 2 mini switches(patch up/down toggle, bass/mix/gk) were added while changing all the hardwares to gold.  now my ultimate bass can do more than what i can possibily think of with the VB-99.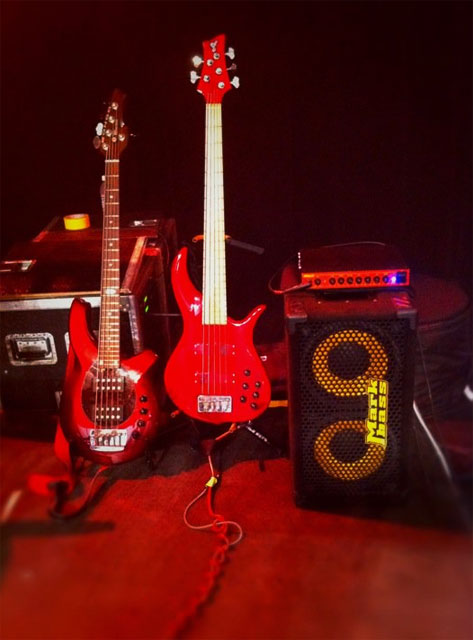 here's a clip of the bass in action. it was hooked up from my pedal board to a mixer to a pair of studio monitors recorded by an iphone4's camera and built in microphone.