this is the wife, my main bass for 7 years and replaced by the bongo hs in around 2007, meanwhile, i also owned the yamaha trb-6 ii bass for couple years.   before that i was using fat-cow's peavy and various friends' instruments.  
i can still remember the day i went to steves music in downtown toronto in early 2000 to check out basses and saw this little guy hanging on top.   can't remember which amp it was plugged into, the thing sounded like thunder and it was just the sexiest bass in the whole store, while i was one of anti-fender kid.  to be honest, i think the impression of the good sound came from the look also.  
while i was still in high school and just had my first part-time job (cell phone sales at pacific mall), 3 days after the first sight, this is what i came home with and couldn't feel any happier ever after.  
build wise, this bass was made in japan and the quality is pretty good for the craftsmanship and parts.  + it's super light weight that you cna use the thin guitar strap and play for hours.  equipped with musicman style pickup, the control layout used to be volume, tone, and the mini toggle to switch between parallel(fatter / punchier)  and series(thinner / brighter) pickup mode.  it was on for parallel for 95% of the time for the bigger sound.  it was a well balanced instrument i grew up with that was crazy fun to play.  throughout the years, i realized the low e string of this guy is not as good compare to some standard scale instruments and the 1 pickup has limited tonal options.
like alot of people, the first self bought instrument always has that special meaning and we all try different things to upgrade it and hoping bring it out for the next gig.  in around  08 or 09, out of coincident, i randomly saw this aguilar onboard preamp in music store, while i had some cash in the pocket, i came home with it without doing any research.  the small project started after a couple more shopping of pots and switch was done.  called in a friend of mine brian (gm4t).  we spent a night together soldering the things together.  and by the end of the night we realized that there were not enough of rooms inside the control cavity.  so we ended up run the battery outside the cavity and it was taped to the body for the longest time.  while inside there was wires running everywhere.  well, it worked at the end.
until recently (spring 2012), i've finally decided to rework the bass a bit after got inspired by seeing inside the cavity of the fbass and sadowsky bass and hopefully this would be the last tweak for it.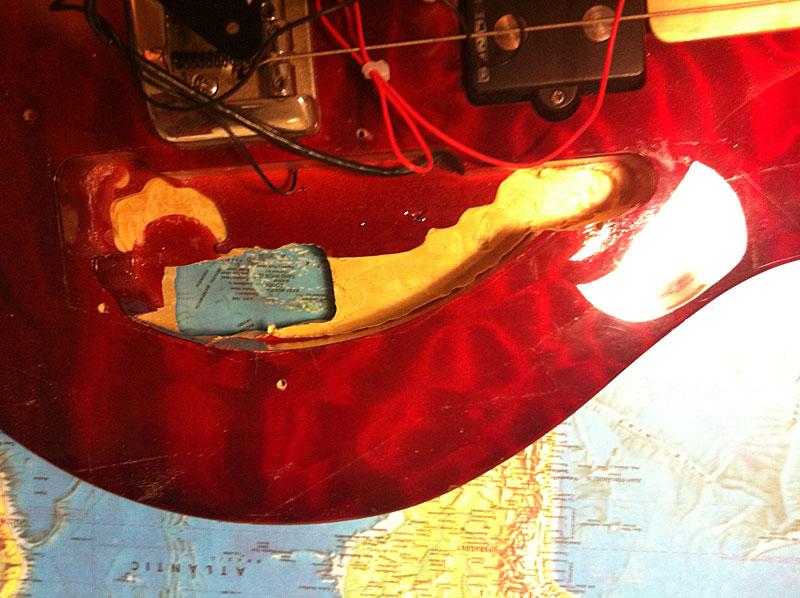 battery cavity was routed, + routting off more woods to fit in all the wires and pots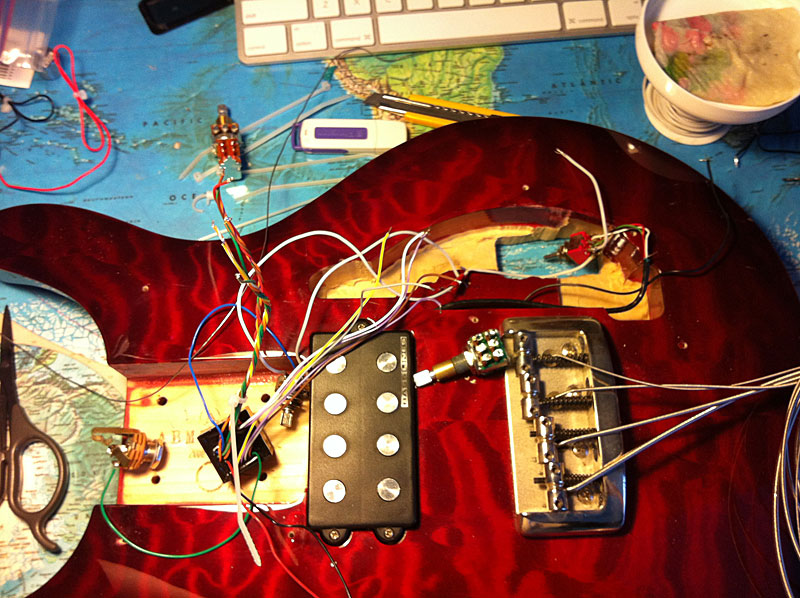 more routing was done because some of the pots were too tall, trying to put the wires into groups.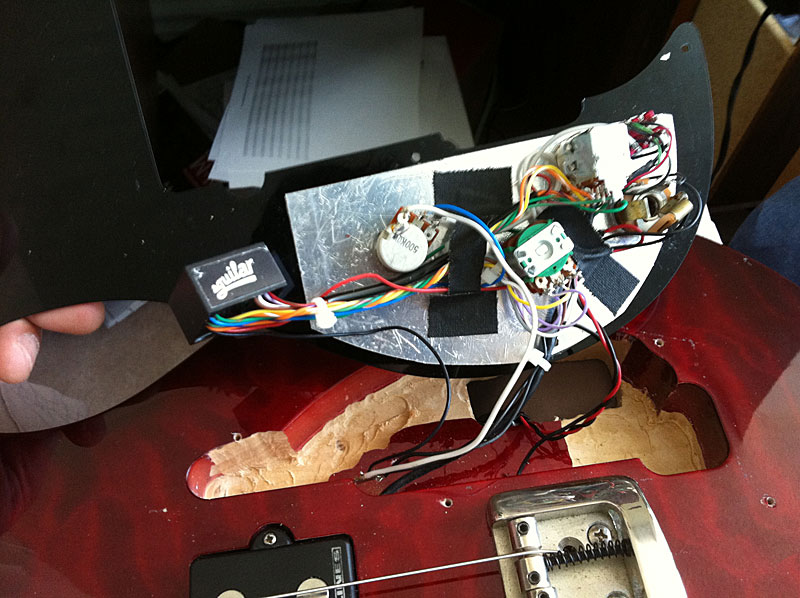 dada, finally got everything fitted in place, maybe some shilding can be done later, or maybe add another bridge pickup, but this is a good weekend project.
the obp-3 gives a lot more tonal options, you can still hear how the bass sound originally but everything became bigger with alot of gain.  the pickup now in split/series mode is now more useful with a bit more boost in low&mid.  and can get that crispy open hi when slapped.  it's a very efficient pre.  i would suggest try an instrument with this pre before buying one, as i suspect not everyone would love it.